Travel to The Hotel Parador en Chefchaouen for the Best Price.
Visit the Hotel Parador in Chefchaouen with transportation and ferry included, from Tarifa. Call us at 954 224 241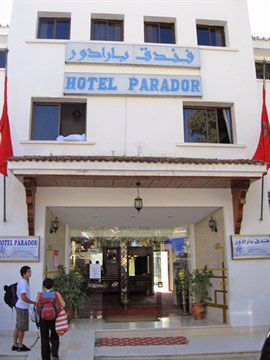 We recommend the best option among our hotel offers in Chefchaouen. Hotel Parador is located in the heart of the Medina, a few steps from the main monument sin Chefchaouen - the Kasbah and the central Uta al-Hammam Square. Its location is definitely one of the best in in Chefchaouen. 
Call us at 954 224 241. Our prices for the visit to The Hotel Parador in Chefchaouen include transportation and ferry from Tarifa. 

Chefchaouen finally appears behind a curve. Flanked by two horns (the meaning of its name), the city is nestled in a valley surrounded by the High Rif Mountains. Chaouen is historically medeival and has a holy past. In Chaouen, the horizon of the city is confused with the sky as all of the quaint homes and buildings are painted with every shade of blue. In Uta al-Hammam square, with a tea in hand and the scent of mint in the breeze,  a sense of peace can be engulfed. 
As in every charming place, tourism has developed, and with this new hotels and resturatns have proliferated. Although the medina and atmosphere of the Plaza of Uta el Hammam are still sorprendent places that you should take time to explore.  
Offer for trip to Chefchaouen, Hotel Parador - ferry from Tarifa.