Getaway to Tetuán with stay in The Blanco Riad Hotel 
The trip to Tetuan with stay at Blanco Riad Hotel, we offer transportation and ferry from Tarifa (minimum of 2 persons) ,Call us for more infomration at 954 224 241!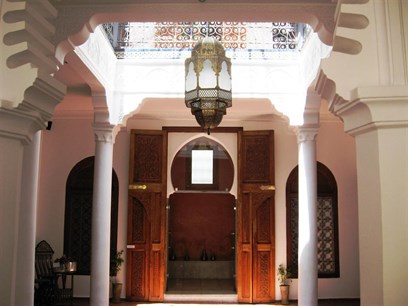 The Riad Blanco is set in a house with a courtyard from the 18th century. Columns, pillars, and arches make up the beautiful courtyard to which the different rooms give way to the gallery. The Riad has a garden from which you can hear the water from the fountain and a roof terrace from which you can see the Medina and the Alcazaba. In 1860  a Spanish consulate stayed there, and in the protectorate was the house of the "Bacha". Later the Ben Hassain family lived there, and in recent times it is used as a wedding palace. 
The Blanco Riad is located in the medina of Tetuan, and is proclaimed as "UNESCO World Heritage", is also a jewel of Muslim culture, with sinuous streets, beautfiul plazas, long and narrow allets and hidden riads behind majestic doors. The Riad has 8 quiet, cozy, and bright rooms. Each has its own bath or hammam as well as enjoyable small spaces. 
Blanco Riad Tetuan is one hour from Tangier, half an hour from Ceuta , and 25 minutes from the beach, golf course, and marina. 
Tetuan, which in Arabic means "eyes" or "sources". Sometimes known by the nickname "The White Dove", it is a city in Northern Morocco, located next to the Mediterranean. 
The city was destroyed in 1339 by the King of Castile and was not again occupied until the 16th century, by Jews from Spain. 
Spain reconquered it in 1862, and maintained a strong influence there until 1013, and with the proctectorate they occupied it again. For this reason, it is often times  referred to as the most Spanish  of the Moroccan cities. 
Blanco Riad Tetuan, ferry and transportation included.