GRAND TOUR TO MOROCCO FROM MARRAKECH TO TANGIER. 7 DAYS
Travel to Morocco and get to know the most interesting places in Marrakech by sleeping one night in khaimas in the Sahara desert.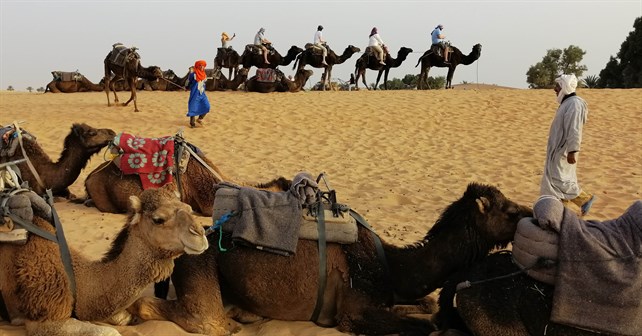 We are going to start our Grand Tour to Morocco in Marrakech, the red city, probably the most famous and touristic city in Morocco. We will visit the outers of the Kotubia Mssque, The twin tower of the Giralda (in Seville) and Menara gardens. After that we will visit the outers of the Kasbah mosque.  Free evening to un enjoy a sunset at the Jmaa el Fna square, where there are live shows and shops every night.
Be amazed discovering the oasis and kasbahs from the south of Morocco within your travel to the  Sahara. 
We are going to continue our tour to Morocco from Spain by entering in the Sahara and enjoy the night there under the  stars accompanied by a special silence that will make this experience something that you remember forever. Feel like a real bereber riding a Camel through the desert at night to enjoy a magical sunrise in a privileged area.
Go through the majestic Boulomane de Dades canyon and the Todra natural pass to discover the charismatic old city of Aït Ben Haddou. Get impressed when you visit Fez and its famous medina, the biggest one along the islamic culture. With more than 9500 streets inside the medina, you will feel the daily life and their typical Moroccan lifestyle that hasn't changed in the last 200 years.
There is no doubts, the Grand Tour to Morocco -Sahara, Marrakech, and Fez- from Marrakech is the most complete and impressive travel that you can do in Morocco!
Do not miss the chance to discover Morocco with this tour that will turns into a vital experience!!!
Small groups, maximum 15 people. Except New Year's Eve, Easter.