Escape to The Riad Assilah in the Medina of Asilah .
Stay in the Riad Assilah in Asilah with transportation and ferry included, from Algeciras (minimum 2 persons). 
The Riad Assilah is a blend of Islamic art and contemporary style in perfect harmony. A modern house with traditional Moroccan flare, equipped with all of the necessary comforts for a pleasant stay for all guests. 
A charming place located inside the old Medina of Asilah, and only a few meters from "the red door", which is one of the entrances to the medina. You will also be very close to tranquil beaches of fine sand, and calm, clear waters. 
The house has a beautiful terrace, dining room, and a central patio. There is also a WIFI AREA at the disposal of the guests.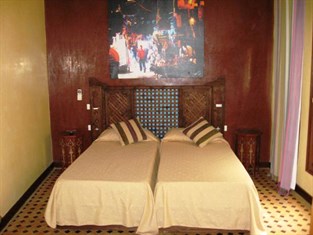 ASILAH enthusiastically welcomes the tourism, which is often lost within the bust streets and the kasbah. This city enjoys fresh seafood at ideal prices. and although it is a small town, its history is almost unmeasurable. The medina is very manageable for tourists; it is clean, well maintained, and surrounded by palm trees. This makes it one of the most attractive medinas in th country. 
The beaches of Asilah are captivating to all visitors. There are often camels on the beach here. You can relax at the hotel pool, or see the fair attractions. We also recommend watching one of the unforgettable sunsets that fall above the sea.
While strolling through the streets of Asilah, you will notice the buildings and home painted white, indigo blue, and emerald green. The colors are inviting and a one-of-a-kind experience. 
Best Offer to travel to Asilah including ferry, transportation, and stay at The Riad Assilah
Call us at 954 224 241 !