Chefchaouen with stay at The Hotel Tarek at the Best Price.  
Chefchaouen Hotel Tarek with transportation and ferry included. Departing from Algeciras, call us for more information at 954 224 241 !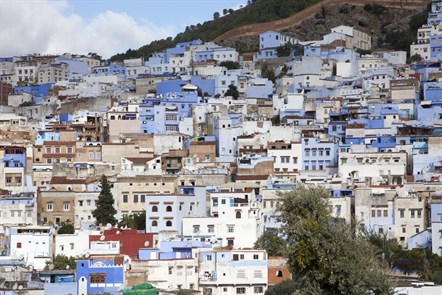 Choose this perfect option from our top hotel deals in Chefchaouen. Located only a 10-minute walk from the heart of Chefchaouen's medina, Hotel Tarek is a basic, modern, family hotel with a terrace offering stunning mountain views. It offers traditional Moroccan breakfasts in the morning and free Wi-Fi are available to hotel guests. Each room here provides to the guests, air conditioning, tv, and a telephone. The hotel and each of the rooms aare decorated in warm, welcoming colors.
Call us at 954 224 241 for more infromation. Our prices for this trip to Chefchaouen include transportation and ferry from Algeciras. 
As in most charming places, tourism has developed in Chefchaouen, and with this has brought new hotels and restaurants. Although tourism is prevalent, the medina and atmosphere of the Plaza of Uta el Hammam are still magnificent places that you will want to visit. 
Chefchaouen sits behind a curve in the road, nestled in a valley surrounded by the Rif mountains, and is flanked by two horns (the meaning of its name). Chaouen has a holy past from the Medieval times. The city is painted in various shades of blue that blend with the horizon of the sky. In Uta al-Hammam square, you can sit, with tea in hand, and take the scent of mint in the air. Here, you will be able to experience a great peace. 
If you would like to see more of our Trips to Morocco, follow our page. 
Best Offer: Chefchaouen, inlcuding Ferry and Hotel Tarek.