2-DAY EXCURSION TO TANGIER. DAILY DEPARTURES.
Discover our trips to Tangier, a magnificent opportunity to see the amazing destination of Morocco.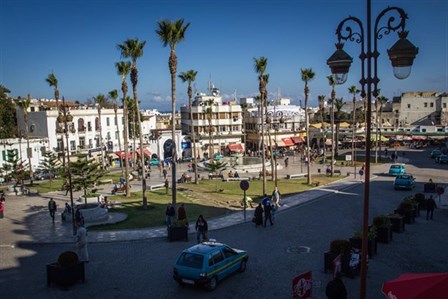 Traveling to Tangier is to visit the gateway of Africa, both geographically and culturally. It is a perfect opportunity to see and fall in love with this culture, and may even open your mind to traveling to more distant destinations, such as the Sahara Desert or Marrakech among others....
For your visit to Tangier, we recommend that you start by going to Haffa Coffee, you can get there by taxi from the port. From Haffa Coffee you can walk to the Phoenician Tombs and enjoy the breathtaking views of the Strait. Later, you should continue to the Kasbah, and visit the museum. Not only does this museum have great exhibits but the building is also an architectural feat. Then, we recommend you to continue down through the alleys until reaching the souks and the Plaza del Nuevo Abril.
Next to the Plaza is the British Church of Saint Andrew where there is a cemetery that is reminiscent of the Victorian era. 
There are plenty of places to eat in Tangier. In the petit souk, there is a restaurant called El Andalus, whose owner is named Elías. Here, you can eat exquisite and quality pichitos at very affordable prices. After a meal, you can continue on foot to the port, and take the Ferry back to Tarifa. 
Tangier is a safe, cosmopolitan city with lots of life. It is an ideal vacation spot for a weekend of shopping, or simply to excape your daily routine and enjoy the city and its beaches. 
Inexpensive trips to Tangier, Morocco