Travel to Asilah - 2 days in Riad Asilah from Tarifa 
Trip to the Riad Assilah in Asilah, with ferry and transportation from Tarifa included. Call 954 224 241 for more information!!!
Choose this perfect option from our offers to travel in Asilah. Riad Assilah is a charming place in the Medina of Asilah. It is very close to beaches of fine sand, and calm, clear waters. The house has a terrace, dining room, and central patio. A mixture of Islamic art and contemporary combine in perfect harmony. A modern house with tradtional Moroccan flare, and equipped with the necessary comfort for a pleasant stay for guests of all ages.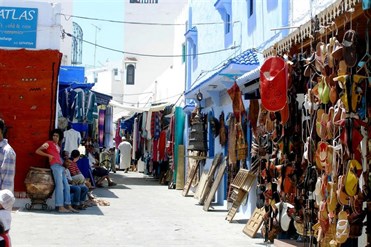 Call 954 224 241, Our price for this trip include ferry from Tarifa and transportation. 
Asilah  welcomes, with great kindness and enthusiasm, the tourism that is lost in its streets and in its small kasbah. This is where one can find good seafood and fresh fish at very good prices. Although it is a small town, its history interesting and even chaotic, unlike the size and daily life in Asilah. Its medina, which is easily manageable for tourists, is extremely clean and well maintained, and is surrounded by walls flanked by palm trees. It is one of the most attractive medinas in the country.
Strolling through its streets, painted white, indigo blue, and merald green is a feeling to be lived. 
The beaches of Asilah are also extremely captivating for all visitors. Here you can find the camels, who love walking on the beach. There is also the hotel pool, the fair attractions, etc... It is the ideal palce to relax and forget about stresses. The sunsets that fall above the sea are unmatched sights. 
Offer to travel to Asilah for two days to and stay in Riad Assilah. Ferries and transportation included.