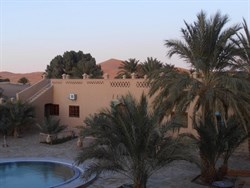 Ksar Merzouga in Merzouga
Preserving the Moroccan structure Ksar Merzouga is a real palace lost in the middle of the desert.
A few meters from the great dunes of the Great Erg Chebbi is the famous Ksar Merzouga, with open arms welcoming all its customers.
Relax, forget work and stress: Ksar Merzouga is the place to do it. All equipment of the hotel, starting from its owner and manager to servers, will be available, that's where you can say that "your wish is my command".