Information about Saidia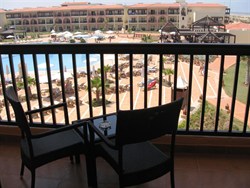 Saidia also called the "Blue Pearl", is a small town of Morocco, located in the extreme northeast of the country, on the shores of the Mediterranean Sea. It is of maritime tradition, has one of the longest beaches in Morocco, fine sand and golden, and enjoys a Mediterranean and sunny climate for more than three hundred days a year. Saidia is a summer resort, and today a major international tourist destination as it has one of the most important tourist complexes in North Africa.
Saidia is only an hour from Melilla, and is a magical place that gathers virgin beaches, mountains, deserts and vergeles, palaces and medinas, old town.
Its narrow streets, the doors of the houses, the squares and terraces, the shops and the cafes, make up the atmosphere of a traditional medina. It is an ideal place to stroll and shop. The Corniche of Saidia (La Corniche) on Boulevard Mohamed V or Promenade, is the meeting point and promenade area, at dusk it is full of holidaymakers and locals.
Alcazaba (Kasbah). Boulevard Moulay Rachid. It is a nineteenth-century fortress, built by Sultan Hassan I. A 15,600 m2 adobe construction built on the left bank of the mouth of the Oued Kiss, with the objective of monitoring the border with Algeria and controlling the movement of People to and from Algeria, which was at that time under French sovereignty. The Souk. Market that is celebrated on Sundays in the open air, between the Alcazaba and the mercado.Playas. Extensive beaches of golden sand that extend from the mouth of the Kiss Uadi to the one of the Muluya River of more than eleven kilometers long, urbanized in the population and in the Mediterranea-Saidia area and wild and semi-desert in the rest of the coast.
Mediterranea-Saida o '' 'Med-Saidia' ''. Resort located about 2 kilometers from the village of Saidia and along about six kilometers of beach and with an area of ​​7,130,000 square meters. Those of the place call it Fadesa, name of the Spanish company today that broke that began the tourist project.
Although the complex was officially inaugurated in 2009, it is still in development today; Has several luxury hotels, golf courses, a shopping center called La Medina with dozens of shops and a number of bars and restaurants. Also planned is the construction of a water park, a cinema, a medical center, and a heliport. And it will have 2,500 apartments, chalets and villas. A marina opened in 2009, which is part of the Mediterranea-Saida complex and has 850 moorings, with sailing, diving and water ski schools.