Travel to Marrakch 4 days from Tarifa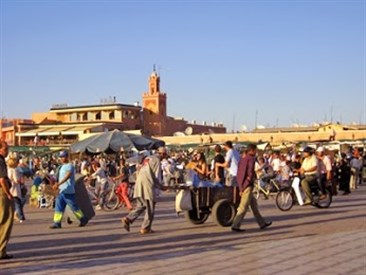 Like the peoples of the Mediterranean area, the life of this city revolves around its most famous square: Djemaa el Fna. You will discover how spectacular this place is during the day, with acrobats, snake charmers, tattoo artists henna, street dentists, water carriers and their wonderful freshly squeezed orange, we can buy in any of the many stalls that are installed there. 
At dusk, the experience of hearing the chants from the mosques can be described as magical. You will see how the atmosphere in the evening changes , when the restaurants, magicians, fortune tellers are installed, the storytelling ... Even if the name the Plaza (Plaza of the Dead) has a chilling origin, there were exposed the heads of the executed. Today is the best place to feel protagonists of a tale from the Arabian nights.
Marrakech, the pearl of the south or the red city, as you call it, is heir to the Andalusian artisanal tradition, and much of their palaces and mosques were built in the eleventh century of the booty to the Sultan Yusuf bin Tachfin, first, and brought his son Ali Al Andalus, making capital of Morocco, to 1269.
Today, tours in Marrakech, Morocco's key-destination, are inspiring Oriental dreams, thanks to its wonderful Riads, palaces, baths, gardens and shops of the world's leading brands. A luxury destination that everyone should know.