Money exchange
The Moroccan currency is the dirham (dh).Not quoted currency and its value is set by the Gobierno.200 dirhams.
In northern Morocco accept the euro almost everywhere. The exchange rate of street is € 1 = 10 dh, that is, if you go to a store or restaurant and pay a ticket for 10 euros you will turn in dirhams 100 dirhams.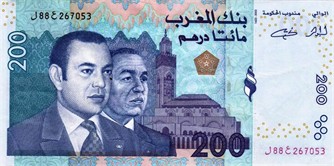 Today 10 dh equals 1 € .Approximately, although its official value ranging between 10.70 and 10.30 dh for about one euro.

Where change?
You can change at hotels, banks and exchange offices. The truth is that there are significant differences depending on the city where you make the change.Therefore example, best change is obtained in Tangier Asilah and Chefchaouen.
If you get Tangier dh 10,50 / € in the villages do not get more than 10.40 dh / €.
Also within the city, you get usually better exchange rate in specialized little shops of the street in banks or in hotel lobbies.

In short, the best change in this order: 1 Exchange offices, Banks 2nd, 3rd Hotel Reception
THYMUS OF CHANGE

As in Morocco rogue is on the agenda, beware if someone on the street offers a kind of above market and very attractive change. It is a scam and the trick is to have a great ability to count tickets. So that you see that what gives you the right thing, but then when you open your wallet and go over notes left tickets. It has also happened that in any exchange office. Therefore you must have your hands immediately the money you receive and of course wary of offering you a "pesao" exchange on the street.

The Dirham

The dirham is divided into 100 cents and often prices are in cents rather dirhams.
Currently in circulation are 10, 20 and 50 cents, 1, 5, and 10 dirhams.
Banknotes in circulation are 20, 50, 100 and 200 dh
You can easily get dirhams in the reception at the exchange rate officially established. You can also change any bank.

Note that you can not take the country dirhams.
For this you must change the leftover you in any bank of the port or airport in the time expected to have prior to shipment. These places are open daily banks of the port of Tangier.
Well this is a saying that no one really looks at you if you bring dirhams to Spain or not. The truth is that if you're not going back, it is best to change them. In northern Morocco the exchange rate 1 Euro is accepted for 10 dirhams everywhere. When you get in banks and hotels is 10.70 dirhams. Definitely we recommend that you change to dirhams. You can do it at the reception when you arrive Friday or a bank, click here for opening hours of the banks money, Traveler's checks and credit cards

We recommend you bring cash because some ATM cards are swallowed and not returned. Travellers checks are not as useful as you think you are. Only valid in any luxury hotels and certain banks.