Hotel Blanco Riad - Optimal Hotels Selection, Tanger-Tétouan, Morocco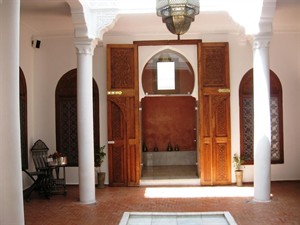 Blanco Riad in Tetouan
The Blanco Riad is located in a courtyard house of the XVIII century. The columns and arches form the courtyard whose gallery gives different rooms. The hotel has a garden from which you can hear the water fountain and a roof terrace from which you can get a glimpse of the Medina and Casbah. In 1860 it was the Spanish consulate and the protectorate was the home of "Bachá". Later, Ben Hassain family lived there and in recent times was a wedding palace.
Location
Blanco Riad is located in the Medina of Tetouan. Proclaimed "World Heritage Site by UNESCO", it is a jewel of Muslim culture, with winding streets, beautiful squares, walls, alleys and narrow long spell and riads hidden behind majestic gates . 1 hour far from Tangier, Ceuta half hour. A 25 minutes from the beach, golf and marina.
Rooms
Blanco Riad has 8 quiet, cozy and bright rooms. Each one has its own bath or hammam and small spaces to enjoy.
Air Conditioning
Television
Internet connection
Telephone
Amenities
Laundry