Know what to see, what to visit and what to do when you travel to Asilah
Asilah, pearl of the Atlantic, salutes us quietly, imprisoned within the Portuguese walls that one day surrounded her. City of poets and painters, it takes to gala to have been the cradle of Raissuli, hero or villain according to who it evokes it. Scourged by the sea, Asilah is a watercolor at dusk, when they gather their people to bid farewell to the day from the fortified lookout, with the promise that a radiant dawn will announce the new day.
Information about Asilah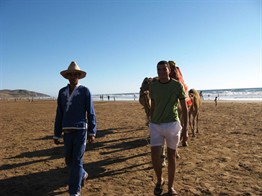 Asilah welcomes with great kindness and enthusiasm the tourism that is lost in its streets and in its small kasbah and that knows to enjoy the good seafood and fresh fish at very good prices. Although it is a small town, its history has been very hectic and disproportionate for the size of the city. Its medina, easily manageable for the tourists, is extremely clean and cared for, is surrounded by walls flanked by palm trees. It is one of the most attractive medinas in the country.
Strolling through its streets painted white, indigo blue and emerald green is a sensation that must be experienced.

The language is not a problem since Asilah was Spanish until 1956, so it will be very easy to communicate in Spanish.
It has more than 60 km of sandy unspoiled beaches of the Atlantic coast, have crystal clear waters. There are no crowds and they are the ideal place to enjoy with family or friends.
The beaches of Asilah also captivate the children, there are camels and they love to walk on them, the hotel swimming pool, the fairgrounds attractions .... It is the ideal place to relax and forget the stress. The sunsets at the sea are unparalleled.