Rue Tafghi n°22, quartier Andalouse, 91000 Chefchaouen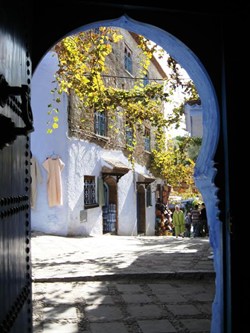 House Hassan - Dar Baibou in Chefchaouen
In the blues city and the heart of the Medina, there is a special place Casa Hassan - Dar Baibou.
Two riads with traditional Moroccan arquitecture and decorated with unique handycraft, cleand and refined.
This antique residence has a big interior garden around what you can find common areas ( typical Moroccan hall, dining room, big center chimney, fountain, etc.... hammam) and 8 warm bedrooms.
4 wide bedrooms with double bed, air condioning, including private bathroom, heating system and chimney

3 double rooms including private bathroom and heating system. 1 big room with heating system and bathroom with bath.
Just in the front of Casa Hassan it can be found Dar Baibou, with a differen decoration in every 14 rooms.

1 bedroom with double bed including air conditioning and heating system, private bathroom with a bath.
4 bedrooms with double bed including heating system and private bathroom.
9 double rooms with 2 single beds, including heating system and private bathroom
Beautiful terraces with a view  to the Medina and valley.
A marvelous place, authentic, for its originality and its simplicity hides a mistery for a succesful and enjoyable vacation in Chefchaouen.