Hotel Zelis • Avenue Mellilal, Asilah, morocco
Hotel Zelis in Asilah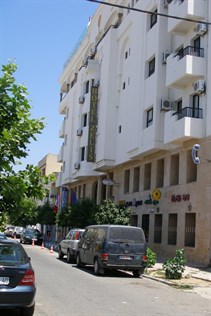 The Hotel Zelis is situated in the center of Asilah, 5 min walk from the beach and the Medina, and from the most important part of the city. Everything that you could need is close to you.
Your rooms are very clean, include air conditioning and fridge. Some of them have a view to the beach. There is a swimming pool with special area for children, opened all year long in the hotel. It has cafeteria and Internet. The personal of the hotel is excelent.
The director of the hotel, Badre, is always reachable in reception and opened to help the guests.
The best rooms of Zelis are the ones that have the view to the sea. Those are the rooms from every floor that en with the nr: 04, 06, 08, 10, 11, 12. The best views are from the third and the forth floor.
Service of Hotel Zelis:
55 rooms.
Hall with satellite TV.
Swimming pool.
Shop.
Game room.
Services in the rooms:
Air conditioning.
Telephone.
Satellite TV.
Fridge.
Trip to Hotel Zelis in Asilah, 2 days, everyday departure, from the price of 89 €.
Trip to the hotel Zelis in Asilah, 3 days, everyday departure, from the price of 109 € only.