60-62 Rue Touahen Laalouj - Essaouira
Riad Al Khanssa in Essaouira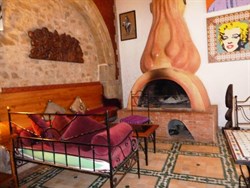 The Riad Al Khanssa house is situated in the Medina and near to the beach. It offers a true Moroccan experiance with local ar, authentic food and a terrace that has views to the city. There are 12 rooms, with an option of private bathroom, including free WIFI. It is just 20 min from the airport. A perfect place to stay to xplore the Essaouira.
Services:
- fax/scan
- clothes washing service
- ironing service
- room service
- dry cleaning service
- breakfast at the room
- advice service
- transport to airport
-  present shops
- massage (extra cost)
- game room
There is also a cheap public parking near by.