Place El Makhzin Chefchaouen Morocco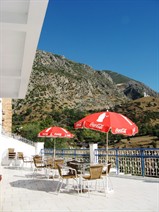 Hotel Parador in Chefchaouen
The Hotel Parador of Chaouen is situated in the heart of the Medina, just couple of steps from the principal monuments of Chefchaouen - Kasbah and the Plaza Uta Al-Hammam - For its destination it is definitely one of the best places to stay in Chefchaouen.
The foods from the restaurant are delicious and with a high quality.
The Hotel Parador sells alcohol and is the only place in the center where you could to that on the terrace meanwhile enjoying the beautiful views.
El hotel posee 49 habitaciones dobles y 6 suites, todas ellas climatizadas.
There are 49 2-person rooms and 6 suites, all including air conditioing.
THE SERVICE OF THE HOTEL PARADOR IN CHEFCHAOUEN
Swimming pool (opened in the summer time).
Restaurant
Bar.
Parking lot.
Service 24 h.
Air conditioning/ heating system.
TV in the rooms.
Private bathrooms in the rooms.
Trips to Chefchaouen, 2 days everyday departure for the price of   139 €
 Tourism information of Chefchaouen; What to see? What to do?
Trip to Chefchaouen Hotel Parador, 3 days, everyday departure for the price of 159 €