Trip to Marrakech and Essaouira 4 days.
Join us on a journey back in time to wander through bazaars where the flow of traditional robes and colorful tents will enchant you. There are a great number of things to see and do such as visiting the minaret of the Koutoubia Mosque, sister of Seville's famous Giralda Tower or experiencing the greatest show on earth in Jmaa el-Fna Square which boasts jugglers, snake-charmers, magicians, story-tellers, acrobats and boxers! Shop and bargain in the bazaar, listen to the hum of the looms, immerse yourself in the sea of people and lose yourself in the maze of narrow streets under the seemingly endless domes.
Essaouira is famous for the prison in Mogador, the most feared of all Morocco when it was a Portuguese colony. The medina was declared a World Heritage Site by UNESCO and is an excellent place to eat and people watch. The fortifications of the old part of town are a combination of Portuguese military architecture, French and Berber styles. You'll be amazed by all of the colors and culture of this sea-front town. Don't miss this amazing opportunity to experience a way of life totally different from your own in Morocco!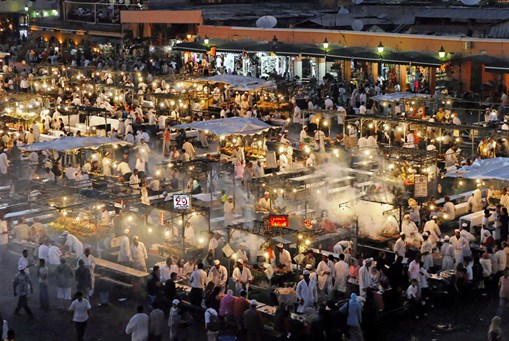 ACCOMMODATION IN A "RIAD"
A Riad is a traditional Moroccan house or palace with an beautiful interior garden and fountain and the entire riad is decorated with mosaics. Staying in a riad is the best way to live the spirit of the Moroccan culture and its medinas, typically near the souks. On the ground floor there is normally a big Moroccan lounge to receive guests. The rooms tend to have large windows made of intricate wrought iron or detailed carved wood. The riads have been bought and restored in the past by the Europeans after decades of neglect, now open to welcome you and to offer all the luxury and charm of Moroccan hospitality. Some of them have also hammam (Turkish baths) and Moroccan eateries. They usually have few rooms, so they are the ideal place to spend some time with family or in small groups of friends.