Travel to Chefchaouen 3 days and live in a country house inside the medina. 
Chefchaouen is a gorgeous village in the Rif mountains characterized by the white and blue architecture. As a visitor, you will enjoy beautiful sightseeing, unique pieces of local artistry and a peaceful and serene look into a city that has so much to offer which is quite rare to find nowadays.
Nice country house in the medina of Chefchaouen, situated in the neighborhood of Onsar, with easy access from Ras El Maa. The house has three floors and 2 terraces. On the ground floor is the entrance, a hall, a bathroom with shower and a separate toilet.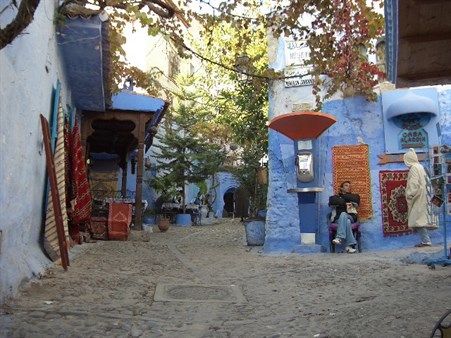 On the second floor is a hall and two bedrooms. One of them has a built-in wardrobe and a small bed, and a double bedroom with a own small bed for children. The house has blankets, towels and bedding. When you get on the next floor there is the kitchen and lounge.

On the first terrace we have a very nice fountain and a bedroom with the bathroom inside. In this same terrace there is a bank. There is very well listening to the sound of water. The second terrace with barbecue has lovely views and a dining table. The house has been completely renovated in 2009.