Travel to Tangier, with Inexpensive Stay in a Hotel in The Medina
Travel to Tangier. Stay in the Heart of the Medina, and only a few meters from the port of The Riad Dar El Kasbah. Fery, Algeciras -Tangier, included for only 125 euros. Call us for more information at 954 224 241.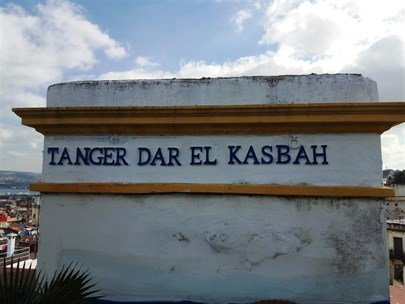 The Riad Dar El Kasbah offers beautiful views of the bay of Tangier from its lovely terraces. It is a charming riad located in the heart of the medina. 
Tanger, the ideal place for a relaxing getaway to Northern Morocco. Although it was somewhat abadoned or years, the city is now full of life and activity, and is also a starting point for most of our Trips to Morocco. 
You will be able to try one of the best mint teas, which is a typical Moroccan flavor, at the Haffa Coffee Shop. You can also take evening walks along the boulevard, or through Mexico Street. 
The Best Deal in an inexpensive hotel (bed and breakfast) for a 3-day trip to Tangier including fast ferry round trip from Algeciras to Tangier. Call us for more information at 954 224 241. 
Price is based on double room, please refer to "not Included" section to see prices from single and triple rooms. 
Supplement for an additional night in the Riad Dar el Kasbah,  25 euros per person. Taxes and fees included. 
Offer for Stay in Riad, in Tangier, with Fast Ferry from Tarifa included.